As independent Local Chartered Surveyors, we can provide essential advice on the property you are looking to buy.
There are 3 main types of surveys that we can complete, these are all identified below.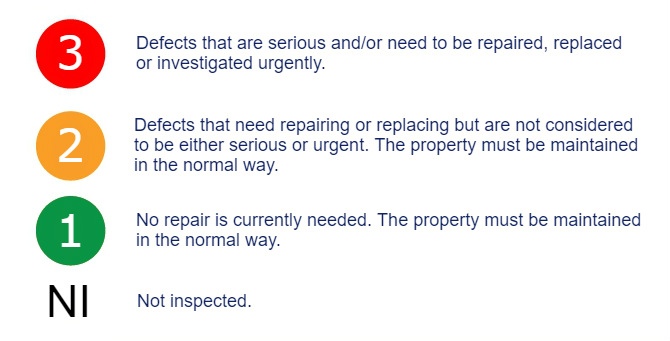 The is the most universal and recommended report we carry out. This report is often preferred by solicitors for any potential buyer as it compacts all of the information into an understandable document.
It is a highly detailed report which is easy to read and covers all aspects of the property and also includes a free RICS red book property valuation. As well as the main report you will also receive personal advice from the professional surveyor who will be able to explain and help you with any potential problems that may be found.
The report will identify defects on a traffic light basis (pictured):
RED - urgent repairs needed
YELLOW - maintenance repairs needed
GREEN - no repairs needed
The report will then highlight any further reports needed including: DPC/Timber, electrical and structural engineers report.
This is the most in-depth comprehensive report we carry out, often recommended for properties over 200 years old or with a history of serious defects. It operates a similar traffic light system as seen in the homebuyers.
• Probate Valuations
• Matrimonial Valuations
• Property Assessment Valuations
• Help To Buy Valuations
The letter form valuation is a limited inspection report often for bank purposes. It will assess the basic condition and give a RICS approved Red Book Valuation.